Bioware dropped a tweet yesterday teasing the new ip.
Bioware released a six-second teaser yesterday morning, and at the end of it it confirms that Anthem will make an appearance at E3. The trailer shows a handful of quick shots, showing armoured soldiers approaching some sort of structure. In the background, a narrator can be heard saying "Something is out there… it wants to destroy us all."
There is something waiting for us beyond the wall… https://t.co/J0lr4GQrYV pic.twitter.com/iFq4fJARsX

— Anthem (@anthemgame) June 1, 2018
Bioware also released some art for the highly anticipated game, which can be seen here: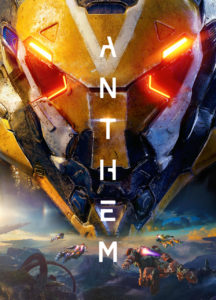 Anthem was announced with some fanfare at last years E3. We know little about it, except that players will have the opportunity to play multiplayer or solo, and still have a story driven experience according to Casey Hudson. "I talked last time about Anthem being 'a story you can experience with friends.' There were, understandably, some questions and concerns about story in multiplayer. Specifically, 'what if I don't want to play with randos?' " He said on the official Bioware blog. "With Anthem we're taking this problem head-on and structuring the entire game design to provide a specific solution for this. We'll be sharing details on how it works very soon."
Are you looking forward to Bioware's Anthem? What are your thoughts on it so far? Join the discussion below.
Image Source: Anthem's Twitter Page